It's almost time to launch your new CaterTrax online ordering solution. So now what?
Transitioning customers from placing orders via phone or email to placing orders online may come with some resistance. So to set foodservice operators and their customers up for success, our CaterTrax team created materials to support a seamless experience when making the switch to this new process.
Host a Site Launch Event


Marketing your CaterTrax site is crucial to create awareness of your business and increase sales. But what good is an online ordering solution if customers don't know it exists? Hosting a site launch event and customer roll-out training session is a great way to teach customers how to navigate your new CaterTrax solution and answer any initial questions they have. To assist with the planning process, we created marketing materials to help promote your site launch event. Operators can easily customize these documents with unique event details and company logo, download, print, and disperse.
Invitation: Send invitations out a couple of weeks before your event so customers can mark their calendars.
Site Launch Flyers: Spread the word about your upcoming event by posting flyers where customers will see them – for example, around campus or in staff dining areas.
Site Launch Tent Cards: Place tent cards on tables in common areas where customers will be sitting to keep your event top of mind.
This event is meant to be informative and make customers feel comfortable transitioning to online ordering, so supply them with this Quick Start Guide that outlines the basics of placing orders and managing a CaterTrax account. This guide walks through:
Creating an account
Creating a new order
Managing orders
Requesting order changes
Taking the time to promote and host an introductory site launch event guarantees a smooth shift to online ordering. To keep it fun, offer samples of best-sellers and new menu items, encouraging customers to start placing orders as soon as they can!
Stay in Touch With Customers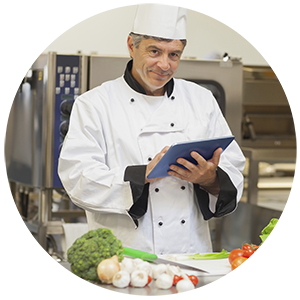 To effectively spread the word about your online ordering platform, leverage social media to share coupons, offer promotions, announce any upcoming events or limited-time menu offerings, and engage with customers. There are 2.3 billion active social media users who have an average of 5.54 social media accounts, (Brandwatch) proving social media as an invaluable outlet for promoting your business. Also, within the TRAX Platform are built-in tools to help you stay in touch with customers. Easily send out emails – to one, a few, or all of your customers – to share important information and drive sales.
By regularly connecting with customers, your foodservice operation will stay top of mind as they decide where to place their next event order.
---
Need some fresh ideas to help when planning your site launch event? We put together an event-planning timeline complete with tips and tricks as a guide for when you get ready to launch your new CaterTrax solution. Review this document to get inspired and let us know if you have any questions in the comment section below. Good luck, and let us know how it goes!